Concrete
Expert concrete refinishing
If you think that concrete is boring, think again. Utilizing highly advanced techniques and products, we can make your concrete a work of art. As one of the most durable materials, concrete is used in a variety of applications.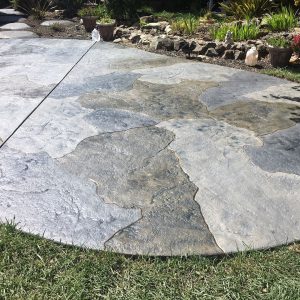 Known for its longevity, many people choose concrete to finish their outdoor entertainment areas or basements. While it is a wise choice, it can be less than appealing due to its natural image. Luckily, with In-N-Out Pro Painting, we know a thing or two about making concrete shine.
Over 15 years of concrete refinishing experience you can trust
Backed by more than a decade and half of experience, we provide our residential customers with concrete painting and staining, enhancing its image and transforming your living spaces. Whether on your patio or in your basement, we can stain and paint your concrete to look any way that you desire.
Providing you with a truly unique solution, our goal is to customize your design to fit your every need. Whether you're looking to make your basement brighter or want to give life to your patio, we are the experts you can trust. But transformation is not the only benefit of refinishing concrete. With a little TLC from our team, we can repair and repurpose your concrete, fixing cracks, pits, holes, divots and more.
Say goodbye to the days to boring concrete, and hello to your simple solution.
Contact us today for your concrete estimate and let us prove what experience, passion, and unwavering devotion combine to look like.